We've been hard at work adding new features to our customer portal SmartCentre. We're proud to release new tools to help you better manage your account, your support tickets, and more.
New Support Features
Tickets is a new section within SmartCentre where you can create and manage your support tickets.
To view all your active and closed tickets assigned to your account, select the Tickets link under the Help & Support section.
To create a new ticket, select the Create button
To view a ticket that's assigned to your account, open the Tickets screen and select a request by clicking the ticket ID number. All your support requests will begin with 'SR'.
To add a new note to an active ticket, open an individual ticket link and scroll the bottom of the page. Select the Add a note link and a text box will appear. Once you've finished with your message, click the Submit button. You'll receive an email copy of your message, and our team will be notified.

Manage Your Contacts
You can now edit who receives billing/invoice information by editing your account information. To update this information, select the profile link in the navigation bar (it will have the name of your account listed here), then select My Account. Click the edit button to submit changes.
In order to answer your questions and solve problems quickly, we need to know who is authorised to speak on behalf of your account. You can add authorised contacts by using our new contact management features. When you're in the My Account page, click the Contact Details tab to add new contacts. You can also edit and delete existing contacts when your circumstances change.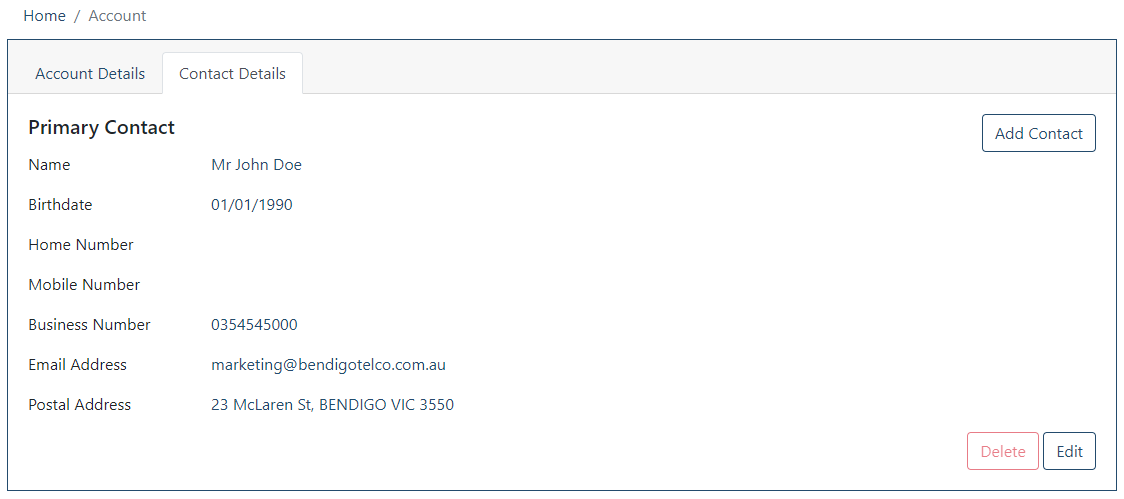 Improved Mobile Data Usage
Up until recently, SmartCentre would show your monthly mobile data usage with a 48-hour delay. If you'd had a data-heavy day, it would commonly take a day or two to reflect this usage in SmartCentre. We've now included mobile data usage estimation to allow you to get a better understanding of what you have left for the rest of the month.
To view your data usage estimate, find your mobile service within the Monthly Usage column after logging into SmartCentre. If you have many services with Bendigo Telco, you can search for a mobile number or filter by service type.
Select your mobile service, and on the following screen, you will find the data usage estimate bar.